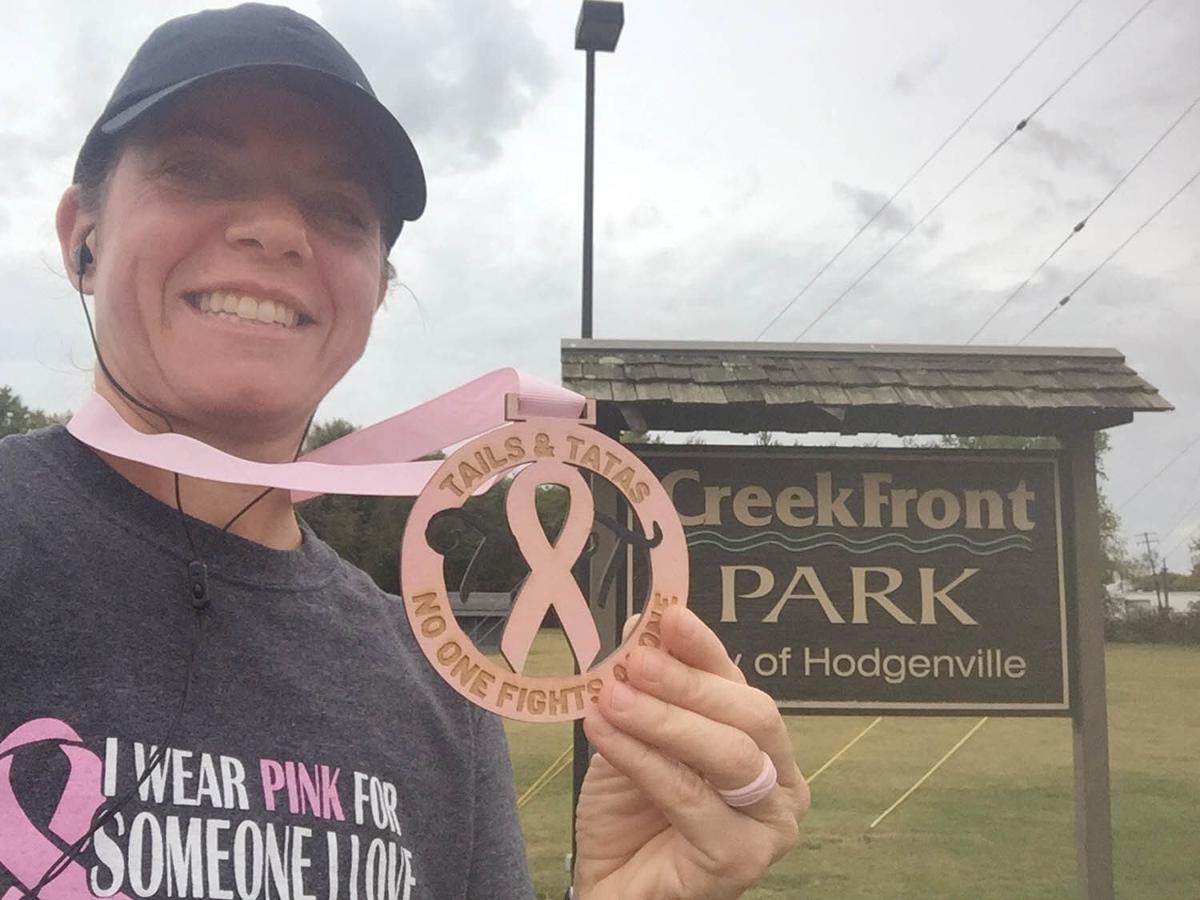 Several people this week have been showing their support for breast cancer awareness as they participate in the Tails & Ta-Tas breast cancer awareness 5K run/walk.
Because of the COVID-19 pandemic, organizers this year decided to make the race a virtual event. Instead of meeting downtown Saturday and completing the event together, those registered have been able to complete the race wherever they please and, if they haven't completed it already, have until Friday to do so.
Hodgenville resident Tiffany Skaggs completed her 5K at Creekfront Park. This was her second year to participate in the event, which she heard about from Beth Mather, an organizer for the race. Skaggs said she and Mather attend Karma Yoga and Hot Yoga Studio in Elizabethtown.
Last year, Skaggs walked the 5K, having just recovered from kidney cancer. This year, she ran it. She said she normally doesn't get her best times with a virtual run because there are no fans cheering her and no person next to her pushing her on, but she counteracted that by running somewhere familiar.
Skaggs said she likes that the money raised through the event goes toward cancer care.
Although the run/walk is centered on breast cancer, the proceeds help those affected by all types of cancer. Money raised from the event goes to the Baptist Health Hardin Foun­da­tion to support the Baptist Health Hardin Cancer Care Center.
Kelli Bush is also participating this year, as she has done each year of the event.
"I am a six-year breast cancer survivor, so awareness and funding is near and dear to my heart," she said. "I am always hopeful that women hear of the event, and even if they don't participate, it reminds them to get a mammogram and be proactive."
For Nancy Lasley, it was her first year to participate. She said she enjoys doing things that support breast cancer research and awareness. She said her mother, Mary Jo Tennison, was a 1988 breast cancer survivor.
Lasley completed her 5K on Sunday. She jogs weekly at the Abraham Lincoln Birthplace National Historical Park, and dedicated her jog this week to Tails & Ta-Tas.
Mather said 84 people registered for the race.
"I was so pleased considering this was a virtual event. Just demonstrates how everyone supports the community," she said.
Another component of the event is the Wig Stand Palooza. People currently have the opportunity to bid on wig stands decorated by artists from around the area. The wig stands were posted online Saturday on the Tails & Ta-Tas breast cancer awareness 5K run/walk Facebook page and bidding is open through 5 p.m. Friday.
Participants can bid by commenting directly on the image of the wig stand they wish to purchase.
If participants are bidding from a distance, shipping the wig stands will be free within 100 miles. All local pick-ups will be arranged on Facebook Messenger.