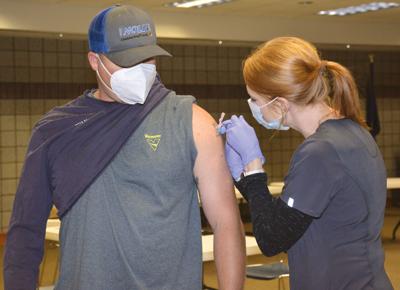 COVID-19 cases continue to rapidly increase across the Commonwealth and holiday celebrations could cause those numbers to jump even more, according to local health officials.
Gov. Andy Beshear on Sunday announced Kentucky had set a new record for the highest number of new COVID-19 cases in a week since the pandemic began, with 9,335 positive cases.
The previous highest week of COVID-19 cases was Oct. 5-11, when the state reported 7,675 new cases.
"The influx is here. In the previous three months, COVID-19 cases have increased by over 200 percent," Lincoln Trail District Health Department Health Promotion Manager/Public Information Officer Terrie Burgan said.
As of Monday, according to the Lincoln Trail District Health Department website, Hardin County has had a total of 1,861 confirmed cases and 16 COVID-19 related deaths.
"Increased travel and gatherings around the holidays will only exasperate the risk of contracting COVID-19," Burgan said. "Letting down our guard could lead to even more COVID-19 cases. It is imperative that individuals and families consider the degree in which COVID-19 is spreading within the county when they leave their homes."
Burgan said everyone plays a part in preventing an influx of COVID-19 cases. The community continues to be encouraged to wear a mask, social distance especially indoors, practice good hand hygiene and not to take unnecessary risks regarding holiday celebrations.
"Limit holiday dinners to individuals who live in your household. Avoid high-risk activities such as shopping in crowded stores participating in parades, or visiting Santa at the mall," she said.
"It is imperative that individuals and families consider the degree in which COVID-19 is spreading within the county before leaving their homes."
If you are exposed, self-isolate, Burgan said. While you are waiting for results, assume you are positive so you don't run the risk of spreading the virus if your test comes back positive, she added.
Lincoln Trail District Health Department also began Monday conducting free COVID-19 testing at various locations within their six counties, plus Breckinridge County. It's open for all people 18 and older, free to people with and without insurance, and does not require a doctor's order. She also noted you do not have to be symptomatic to be tested.
To help lower the potential influx of patients, Baptist Health Hardin Vice President of Patient Care Services and Chief Nursing Officer Sharon Wright also encouraged people to get a flu shot.
"This small gesture will help you and your family stay healthy or have reduced symptoms during flu season," she said.
According to a news release from the American Medical Association, in any given season, as many as 45 million Americans get sick with influenza and as many as 810,000 are hospitalized.
"The flu vaccine is a safe, effective step that physicians and public health experts recommend to protect patients and their loved ones from getting sick with influenza," AMA President Susan R. Bailey, MD, said in a news release.
"The potential impact of a bad flu season during the COVID-19 pandemic could place added burden on medical resources, which is why we are teaming up to urge all people to get a flu vaccine this fall and thereby help prevent seasonal influenza infections."
The Centers for Disease Control and Prevention recommends that everyone six months and older (with rare exceptions) get a flu vaccine each year — ideally before the end of October, when flu isn't yet spreading in most parts of the country.
Wright said health care providers have been heavily challenged during the COVID-19 pandemic.
"Our team is outstanding and does whatever it takes to care for our patients; however, the pandemic has had its toll on our staff — long hours, patient loss, concerns regarding exposure, etc.," she said. "However, every day, they come back to work committed to providing advanced care to our patients. You cannot imagine how your prayers and encouragement as well as gifts to the Baptist Health Foundation Hardin's COVID-19 Emergency Fund has sustained our team when we need it most."
Wright said they began watching and preparing for the pandemic in January before it hit. She said the health system has established a dedicated team that directs Baptist Health Hardin's future planning and response to the pandemic.
"Our team and community rallied to help us develop plans and secure supplies. We remain ready to care for all patients even if we have a COVID patient surge," she said.