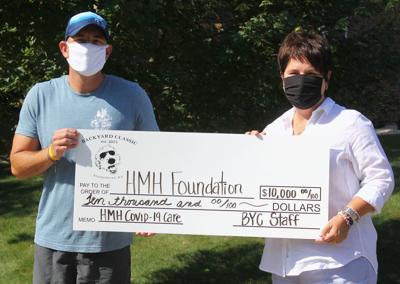 Organizers of the Backyard Classic, an eight-hour endurance run that takes place on the trails in the Eliza­bethtown Nature Park, donated $10,000 to the Har­din Memorial Health Foundation.
This is the fourth year organizers donated to the foundation, totaling $30,000. Co-directors of the race are Ben Bryan, Lori Masterson, Kelly Berry and Damon Barnes.
Bryan, while speaking with Baptist Health Hardin Vice President and Chief Marketing and Development Officer Tracee Troutt earlier this week, said the first race six years ago was a test pilot.
"We decided we were going to do this out of Damon and Lori's backyard to see if the concept would work," he said.
Right after they started to send out private invitations, Bryan said Masterson was diagnosed with cancer. She ran the race, which her team won that year, and within a week after the run she had surgery and started her treatment.
With more people showing interest in the race, Bryan said they knew they could make it bigger, but they weren't going to do it unless it supported a cause. Since Masterson had all of her treatment at the Baptist Health Hardin Cancer Care Center, they decided to give the bulk of the funds raised to the center. They gave a small portion to Greenspace.
"Every single penny that we have ever brought in has gone out to the Cancer Care Center and Greenspace," he said.
This year, they were interested in the money assisting with the hospital's COVID-19 relief efforts. Troutt said there may be something they could do to find a cancer angle with it, too.
Since this year's race, which was scheduled for August, was canceled, Bryan said they gave runners who already registered two choices: They could get a refund of their money or they could donate their money. He said more than half chose to donate.
Troutt said that shows how "passionate about the cause" these runners are.
Bryan said the first year of the race they had 25 runners. This year, they had a cap at 250. He said people come from all over the participate.