Source: Mary Alford, The News-Enterprise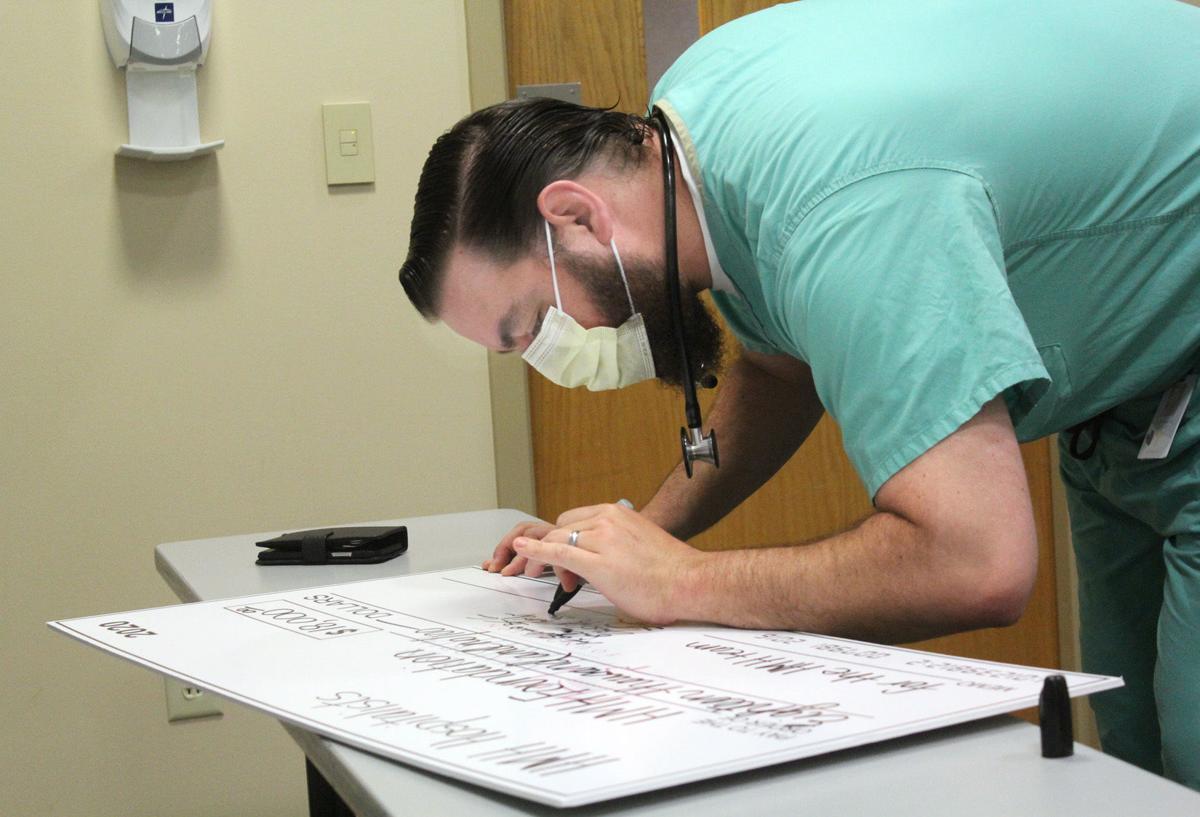 Photo by MARY ALFORD/The News-Enterprise
The Baptist Health Foundation Hardin Friday received a group gift of $18,000 from Baptist Health Hardin hospitalists for its Baptist Health HardinF COVID-19 Emergency Fund.
Postponed elective surgeries and diagnostic procedures, along with closed Baptist Health Hardin facilities and low patient volumes, meant many team mem­­­bers had to reduce hours worked and increase normal flexing.
Some employees have extra­or­dinary expenses related to CO­VID-19, Baptist Health Hardin Vice Pres­i­­dent and Chief Develop­ment and Mar­ket­ing Officer Tracee Troutt said Friday during the check pres­en­­ta­tion. Baptist Health HardinF created its COVID-19 fund to provide meals and support staff while at work and to help employees in need.
"What you are giving us today is going to more than help a number of those folks. Thank you so much for stepping up to help those that you work with from day to day. It's about as good as it gets and it embodies the Baptist Health Hardin mission if I've ever seen it," Troutt said.
Hospital team members can request help from the Human Resources team and they will determine need and distribute money to those in need together with the foundation.
To date, more than $55,000 has been raised for the emergency fund and more than $30,000 has been donated by Baptist Health Hardin Phy­s­icians including the hospitalists.
"This gift is an example of the Baptist Health Hardin mission at work," Baptist Health Hardin President and CEO Dennis Johnson said. "We strive to take care of the physical, emotional and spiritual needs of our patients, their families, our staff and each other every day. During this pandemic, there have been so many examples like this one in which our team steps up to do whatever it takes to live that mission. And once again, the Baptist Health Foundation Hardin delivers resources to make Baptist Health Hardin stronger."
Community members who want to show their support of front-line health care workers during the COVID-19 pandemic by donating to the fund, can go to ourhmh.org/online-donations.
Hospitalists provide general medical care to hospitalized patients. They lead the hospital medical team, coordinating care for inpatients. The Baptist Health Hardin Hospitalist program began in September 2012 with the hiring of two physicians. Today, there are 28 hospitalists with 15 employed by Baptist Health Hardin.
These physicians provide inpatient care for more than 60 percent of hospitalized patients at the hospital, with all kinds of medical conditions and they manage surgical patients along with the surgeons.
"Our crew was very eager to step up and help out however we could," Hospitalist Dr. John Huff said.