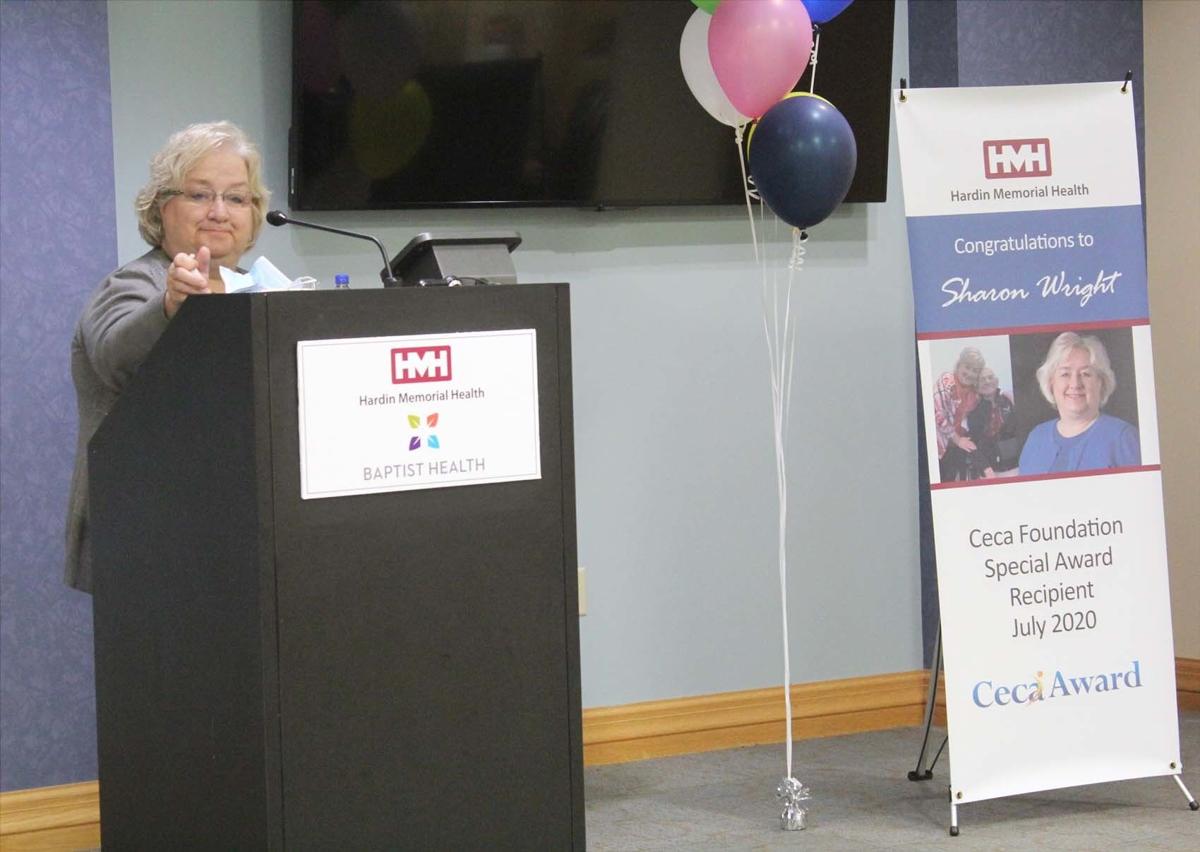 Walking into a conference room at Hardin Memorial Hospital, Vice President and Chief Nurs­ing Officer Sharon Wright was greeted with the smiling faces of a dozen or so fellow staff members.
They gathered Wed­nes­day to celebrate and recognize Wright as she received a special award from the Ceca Foundation.
The mission of Ceca is to improve the human experience in health care communities by honoring the work of exceptional caregivers.
Awards specifically were designed to recog­nize exceptional acts of care by health care workers on the front lines and behind the scenes, who are working tirelessly every day to protect our most vulnerable populations from COVID-19.
During the pandemic, Wright accepted the additional role of incident commander of the hospital's COVID-19 Response Team. She was charged to assemble clinical leaders to determine the hospital's response, including design­ing the structure of the response and appointing leaders to numerous roles.
She communicates activities with Baptist Health's incident command structure and reviews and disseminates all updated state and national guidelines for patient care and staff protection, regulatory requirements and financial resources to aid the organization.
She also closely works with the Lincoln Trail Dis­trict Health De­part­ment to discuss preparedness, implement restrictions by the state and secure personal protective equipment. She helps communicate with health care providers in the community to best manage COVID-19 cases.
"Whether providing compassion and care to human beings in time of need or lifting spirits of your teammates with acts of service, leadership and kindness, you're a shining example of what it means to be a caregiver," Nate Hamme, president of the Ceca Foundation, told Wright during Wed­nesday's event.
Hamme said Wright is "a real exceptional individual who personifies what we love about health care workers: selflessness, going above and beyond, and working as a team."
Shelia Smallwood, assistant vice president of the Baptist Health Hardin Medical Group, shared stories of working with Wright for the past 35 or so years.
"We have been the best of friends. Friends that I don't even know how to describe it. She is more like my sister honestly than she is my best friend," she said.
The two were new nurses together, trying to figure things out.
"Patient care has always been her focus and it has always been her No. 1 priority," Smallwood said. "That is what she really loves and she loves nursing but she loves everyone else as well."
Baptist Health Hardin President/CEO Dennis Johnson also touted Wright's compassion and character.
"You know we all love you," he told Wright. "We love you because of your Christian leadership. We love you because of your passionate patient care. I think we love you more because of your encouragement and your friendship."
Wright was recommended for the award by Mike and Dana Bowers of Elizabethtown, who previously created iPay Technologies and now operate Venminder. Through iPay, Mike Bowers was introduced to Matthew Lawlor, a competitor at the time, and they became good friends.
Ceca Foundation was established in 2013 by the Matthew and Rosemary Lawlor family. According to the Cece Foundation website, the Lawlors were inspired by the exceptional care Matt's mother enjoyed in her later years and by what they witnessed as volunteers at care facilities for the physically and developmentally disabled.
Hamme said they asked Mike Bowers, a Baptist Health Foundation Hardin board member, who to recognize at Baptist Health Hardin and it took less than a second to offer Wright's name.
"You really are special. This kind of effort and dedication needs to be celebrated," Mike Bowers told Wright.