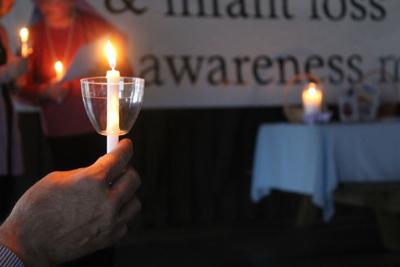 One in four pregnancies end in loss.
Baptist Health Hardin BirthPlace Man­ager Dee Dee Diller said pregnancy and infant loss is far too common.
To help encourage and support families that have experienced loss, Baptist Health Hardin traditionally hosts an event in honor of Pregnancy and Infant Loss Awareness month in October. The event is for people to come together, pause and reflect on losses that have impacted numerous families in the area.
"It is a meaningful time for those who have experienced loss as well as caregivers. The time is full of hugs, tears, encouragement and reflection," Diller said.
Because of COVID-19, they are not able to gather in person this year. Instead, they've decided on a virtual event.
"Our committee, in­clud­ing nurses and caregivers from BirthPlace, La­bor and Delivery and the Emergency De­part­ment as well as our chaplains, thought a virtual re­flec­tion would be the next best thing in honor of Pregnancy and Infant Loss Remembrance Day on Oct. 15 (today)," she said.
At 6:57 p.m., Diller said they encourage those impacted by pregnancy and infant loss to join them on the Baptist Health Hardin Facebook page (facebook.com/BaptistHealthHardin) for "a reflection, a moment to pause, an opportunity to honor those lost, and to come together to see that you are not alone."
"Life is busy even in the midst of a pandemic when people are encouraged to stay home. Busyness, in many ways, is a coping mechanism when individuals and families have experienced loss like pregnancy and infant loss," Diller said.
"I hope this virtual reflection is an opportunity for all those touched by pregnancy and infant loss to pause, reflect, grieve and celebrate the life of their precious child."
Diller invited the public to join BHH online and, if they are comfortable and willing, to share their story. In honor of Pregnancy and Infant Loss Remembrance Day, she said grieving parents, grandparents and loved ones are encouraged to light a candle at 7 p.m. in their respective time zones to create a wave of light around the world in memory of babies lost to pregnancy and infant loss.